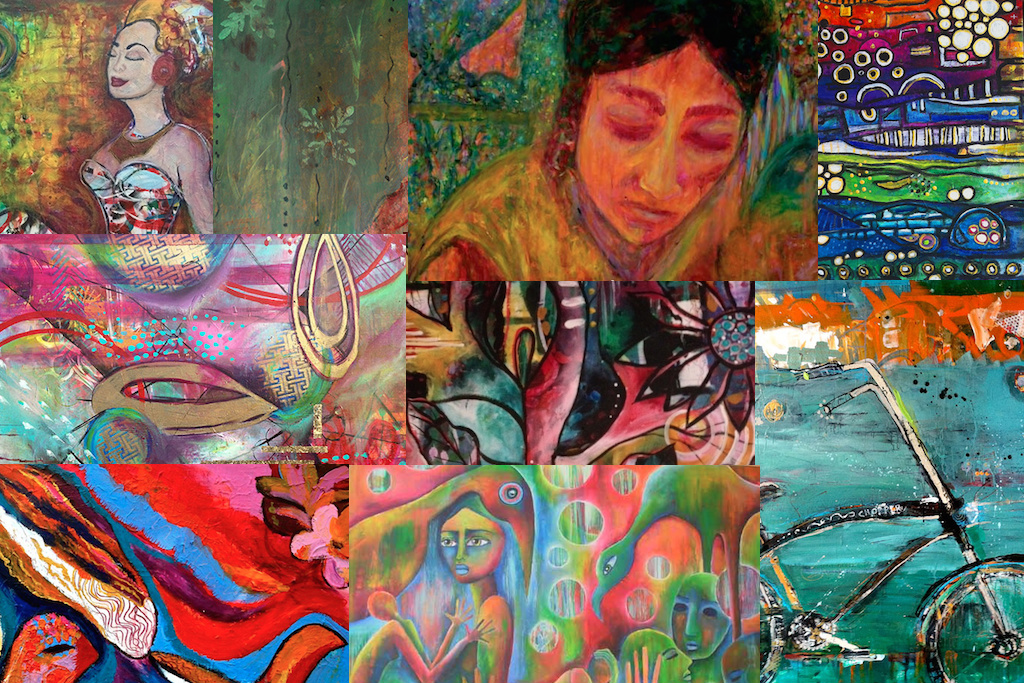 Today is a big day around here. It's the very first day of "school" for my latest group of Bloom True E-Course students and excitement is in the air! In honor of this new brave beginning, I'm sharing some of the awesome work and reflections from past bloomers. Gotta admit, I'm pretty proud of them — you'll see why.
We still have some spots open for any 'late bloomers' out there (sorry, had to). Registration is open! Feel like joining the tribe? I would love to have you. OK…on with the show!
"This painting truly took on a life of its own as I painted it, and taking Flora's advice to heart- I let go and followed where it wanted to go. Painting it was one of the most meaningful and unique creative experiences of my life. Before I started this class, creativity was important to me, but something I had trouble finding time for. At the end of this course, my creativity is ESSENTIAL to me, and a necessary part of my every single day." 
---
"The most important thing I learned: don't be afraid to try things out! You can always see it as another layer. This is a very liberating feeling. It has made me way more adventurous and bold in my way of painting." 
---
"I adore my painting, I see my style blossoming with new techniques and inspirations from Flora. And finger painting is now a MUST in my studio! BloomTrue was absolutely incredible–connecting to my art and myself (via the intuition exercises and gratitude work) was a winning combination, I am so grateful."
---
"I love how the course has taught me to use brilliant color, to experiment with shapes and movement that I never would have tried before, and to further let go of my mind and trust in what's happening on my canvas."
---
"The Bloom True course guided me along a path so that today I can look at a stack of canvases with anticipation over what I may be able to create. I was making so little progress because of my fear of making a mess, not something artistic. Whew! Looking forward to maintaining this positive energy for a long time."
– Sharon Minchuk
---
"This painting is my very first painting done on canvas. It came into being as I let go, let loose the Dreamer in me. I have not picked up a paint brush in eight years, nor have I ever painted with acrylics or on a canvas. This course has allowed the creative, intuitive painter in me to arise … with joy and freedom."
– Dr. Fauziah Mohamed Yunus
---
"This painting for me expresses the exuberance of summer and my love affair with painting that began doing your wonderful course. Your course gave me the confidence to explore myself, my creative spirit and the medium of painting. A new lifetime adventure has been sparked!"
---
"I had never painted much, large nor had had I ever painted figures or anything figurative before. Suddenly, I felt like I could and did. It was fun and easy. Previously, the fear was in the way, I guess. I never thought it was in me so I never tried. This entire process is about bravery and intuition just as your title indicates. Fearlessly yours."
– Melanie Berry
---
"What I have learned from the course I will share with my students…..to understand that they have a place in this world, that they are unique, and that this needs to be celebrated."
– Diane Fifer
---
THANK YOU for taking the time to experience these heartfelt Bloom True TRIBE creations. Each painting represents so much trust, letting go and courage. For more info + testimonials about the course, please head on over to the Bloom True page.
Love to all. Have an awesome week. xo flora