This week's TRIBE Tuesday features the gorgeous work and inspiring story of one of my amazing workshop students, Mary Suzanne Garvey. Mary took my very first workshop in Portland over four years ago, and is a wonderful example of a student who has truly found her own unique, authentic voice.
As many of my students transition into teaching and selling their own paintings, I applaud and bow before the ones who create works that are unmistakably their own. I hope you enjoy Mary's beautiful story below…
I first saw Flora's paintings on Anahata's Katkin's blog and was STRUCK by the luscious images, colors and beauty I saw before me.
At the time, my boyfriend needed some artwork for the cover of his new CD and I suggested he contact Flora. She had just returned from Bali and when we walked into her studio it was full of the most incredibly gahhhhhorgeous paintings.
Talk about MAGIC.
I asked Flora to let me know if she ever taught a class. Several months later, I was one of the lucky ones who attended Flora's first workshop. It was pure heaven.
Flora was a natural teacher from the very beginning.
Her grounded, loving, encouragement and expert intuitive eye initiated me into what has become a fulfilling and thriving adventure into painting that has far exceeded my wildest dreams. After that first class I signed up for her next one, and another.
I was so inspired, creatively nourished and fueled by her workshops that I painted my heart out and started selling my work within a year.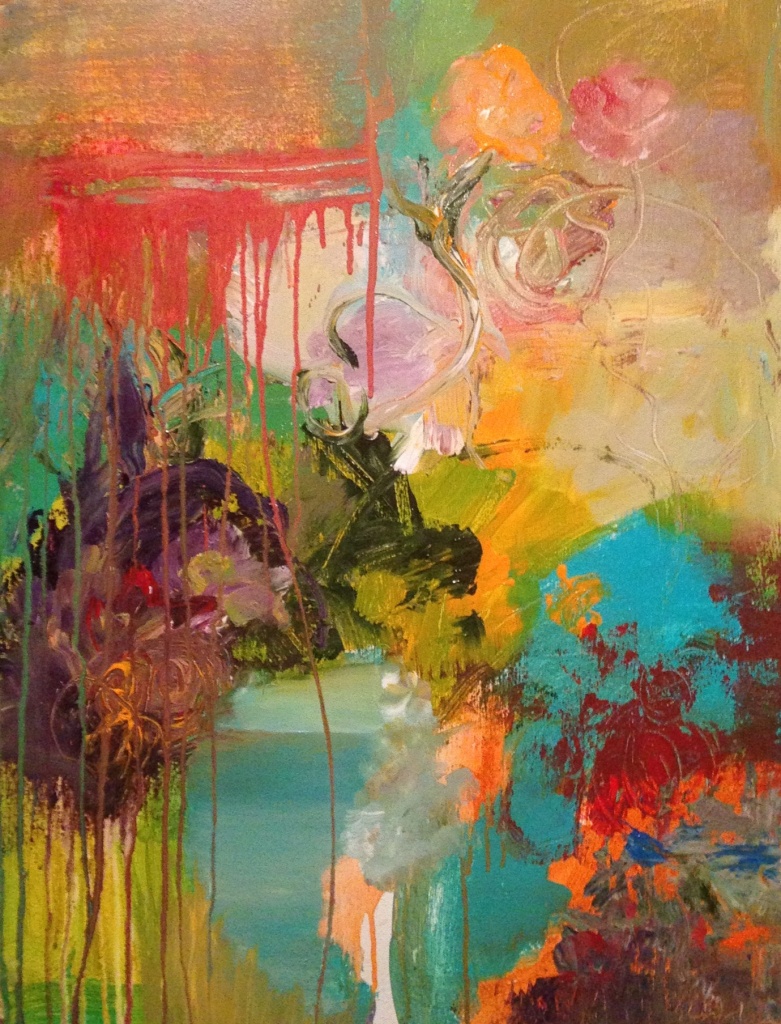 I always knew I wanted to paint.  It was in my bones and yet I had postponed it for years.
I was too afraid to mess up my walls, too timid to invest in canvas and paint for fear I might fail. But meeting Flora and participating in her Bloom True workshops really shifted everything for me. I learned to be bold, take risks, try something different, keep going, trust, breathe, let go, play.
(Flora is the Queen of play)
I listened intently to what she said in her workshops and could hear her words guide me when I was at home painting away.
Watching her give demos was one of the most liberating teachings for me because it transcended all words and ideas. I noticed how she allowed herself to flow and how gracefully her hands danced with the paint; truly stunning to behold.
It's been four years since I took Flora's first workshop, and since that time I have sold over 40 paintings, taught private one-on-one painting for many students of my own and am currently selling my work in several boutiques.
Though I love selling and generating income from my work, it is the timeless portal that painting offers me into the world of self expression that I treasure the most.
Painting is my soul's medicine.
When I do it I am changed for the better; I dream differently, see the world with fresh eyes, and am more grounded and connected to my center. I am ever grateful to Flora for giving me the inspiration and permission to open myself up to what I was longing to do for so long.
Thank you so much for sharing your story, Mary.  It is a pleasure and honor to know you, and to be one of the guides on your journey.  I'm so proud of you!
For anyone else wishing to join in the magic of the Bloom True experience, our next five-week online course is right around the corner, beginning on January 26th.  A global tribe of bloomers has already gathered and are gearing up to paint!  If you are feeling the call to join in the fun, we would love to have you.
And, to all the Bloom True alumni, please continue to send in your Bloom True TRIBE stories.  We would love to share them here!  Submit your TRIBE story here.
Big love,
xo flora