I WROTE SOME BOOKS FOR YOU!
THE ART OF ALIVENESS
My newest book, The Art of Aliveness, was born from my endless fascination with how our lives can become our greatest work of art and how our creative practices can support he ways in which we show up for life.
The Art of Aliveness is a vulnerable chronicle of my most impactful and tender life stories, along with the most potent insights I've gleaned from my years as a creative guide and painter.
My greatest wish is that this book will serve not only as practical and loving support but also as a soothing balm during these tumultuous times. And like the subtitle says, I also hope it offers a creative return to what matters most.
Read the first two chapters here.
An excerpt from The Art of Aliveness:
You don't need to create something that feels beautiful or useful. You don't even need to create a thing at all. Over time, the practice of creating teaches us to value ourselves for showing up and believing that our contribution is worthy and that this feeling of aliveness is worth the risk. This is how we learn to trust ourselves as capable creators in the world, and this is how we get back in the driver's seat of our own lives.
FRESH PAINT
After years of guiding painters through online courses and in-person workshops, Lynzee Lynx, and I noticed a collective "readiness" from our students to create work with was more personal, unique, and true to them — a natural progression for most makers.
However, we also noticed how difficult it seemed to actually develop a distinct style, even though the desire for it was sincere. This conundrum, along with our shared passion for authentic expression, provided the spark needed to create a new and potent curriculum based on painting 100 small mixed-media painting for folks looking to find more integrity, depth, and originality in their work.
We presented the first iteration of this philosophy and practice in the Fresh Paint E-Course and we're so excited to be able to offer this body of work to you now in book form.
BRAVE INTUITIVE PAINTING
Brave Intuitive Painting is about freeing up, letting go, and embracing the mystery of the creative process. It's also about returning to PLAY.
I wrote this book in 2010 as a way to share my Brave Intuitive Painting process with a broader audience, and I'm honored the book has found its way into the hands of over 80,000 brave painters around the world.
Brave Intuitive Painting is an inspiring and encouraging guidebook enjoyed by both novice and experienced painters alike. This unique approach to painting is based on the notion that you don't need to begin with a preconceived painting in mind. Instead, you can allow your paintings to unfold organically over time through bold mark-making, experimentations with color, and a curious mind.
CREATIVE REVOLUTION
Released in November 2016, Creative Revolution highlights the incredible transformations I witnessed by sharing my Brave Intuitive Painting process with thousands of people over the course of a decade.
Weaving personal stories with painting exercises and tools for inviting more creative aliveness into your everyday life, Creative Revolution offers a new way to approach creativity both on and off the canvas by digging beneath the surface of our daily existence and responding spontaneously to ever-evolving circumstances.
Creative Revolution is a reminder that creative practices can also serve as tools for personal transformation and healing.
Creative Revolution is available on Amazon (US).
EARTH IS HOLDING YOU
Released in August 2020, Earth Is Holding You was written by my dear friend Pixie Lighthorse and painted by me in a woodland hut at Breitenbush Hot Springs.
Earth Is Holding You offers encouragement and consoling, a voice of support and guidance when you're experiencing disconnection, fear, doubt, and loneliness. It cheers on the bold ones, nurtures the creative ones, consoles the tearful ones, and honors the wisdom in each of us—young and old.
Our hope for Earth Is Holding You is that it reaches children and adults far and wide to spread the good news that our beautiful Mother Earth is always holding you.
We encourage you to purchase the book directly from Pixie's website, and when you do, you'll instantly receive a downloadable digital flipbook narrated by Pixie and a PDF of printable painting images and quotes from the book.
You can also find it on Amazon.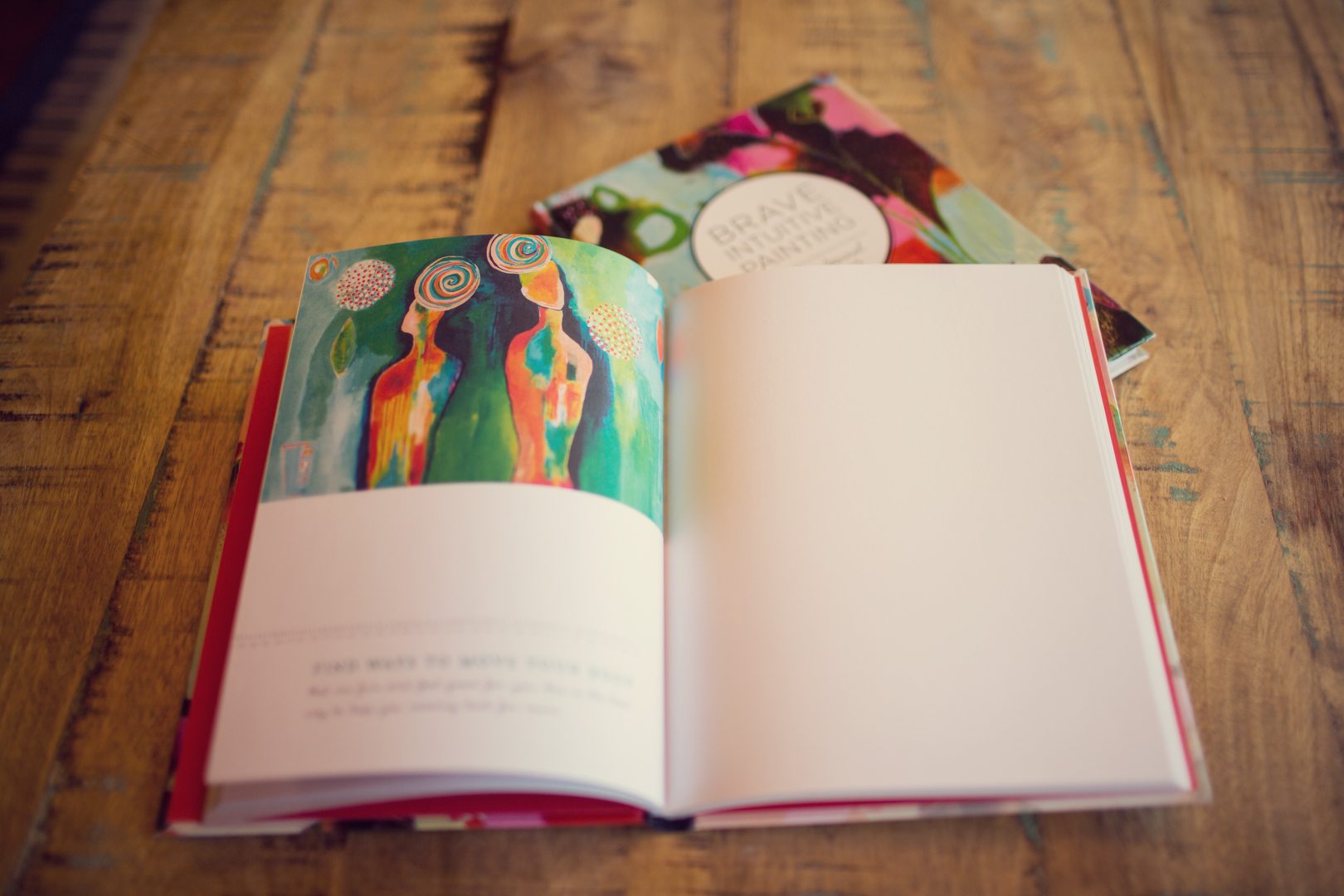 THE BRAVE INTUITIVE PAINTING JOURNAL
In 2014, I released a journal inspired by Brave Intuitive Painting called, Brave Intuitive Painting: An Art Journal For Living Creatively. The journal is packed with colorful images, inspiring quotes, gentle prompts and plenty of white pages to explore your own creative musings. This journal is currently out of print.