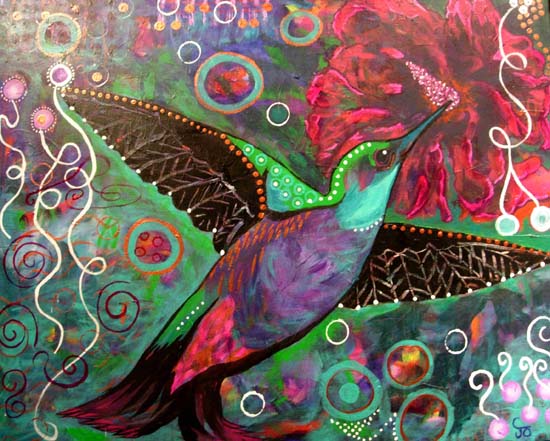 "This class was just what I needed to get painting again and try acrylics. Flora taught me to see all that is perfect instead of the faults. It's been so long since I've enjoyed painting this much!" Cinda Bauman
Do you want to access your inner creativity, feel more connected to your life and feel confident to express your true self on canvas? Bloom True might just be for you. Take a look at these paintings created by participants of the class and find out more here.
Bloom True is extraordinary – join us and experience it for yourself. The next class begins January 28 2013. Register now.
"With this piece, I felt as if I was finally starting to bloom. I let my intuition guide me just as Flora teaches. Such an amazing course." Stephanie Estrin
"Flora, you have helped me find a way to access parts of my creative spirit that was buried deep inside of me. Thank you!" Jenny Grant
Spring Forest, 30×40
"Taking Flora's course has made painting mysterious and freeing and has opened me up to the flow of the moment. Thank you so much, Flora!" Jessica Payne
"The bloom true E-Course has been a fantastic, life changing experience for me. It has pushed me to do the things I have dreamed of doing, has taught me many new skills and given me confidence and spirit to continue on my creative path." Kristen Johnson (chiggy)
"This was a life transforming class in so many ways. I am so grateful for the
shift in my approach to painting, it has brought so much joy into my life and I
can't thank Flora enough for the gifts she shares!" Lisa Barker
"I had never painted much, large nor had had I ever painted figures or anything figurative before. Suddenly, I felt like I could and did. It was fun and easy. Previously, the fear was in the way, I guess. I never thought it was in me so I never tried. This entire process is about bravery and intuition just as your title indicates. Fearlessly yours." Melanie Berry
"I very much enjoyed this class. I enjoyed this intuitive approach to painting, which allowed me to be free without any preconceived ideas of what I was going to paint. I was delighted in the results. Flora is an awesome artist, teacher, and mentor. The videos for the course were very high quality, I felt like I was in the front seat in her studio watching her paint." Robin Conyers
"This class has taught me the value of dimension & depth all while letting go and trusting myself to go down the correct path. Invaluable!" Amber Malarsie
Bloom True is extraordinary – join us and experience it for yourself. Class begins January 28. Register now.