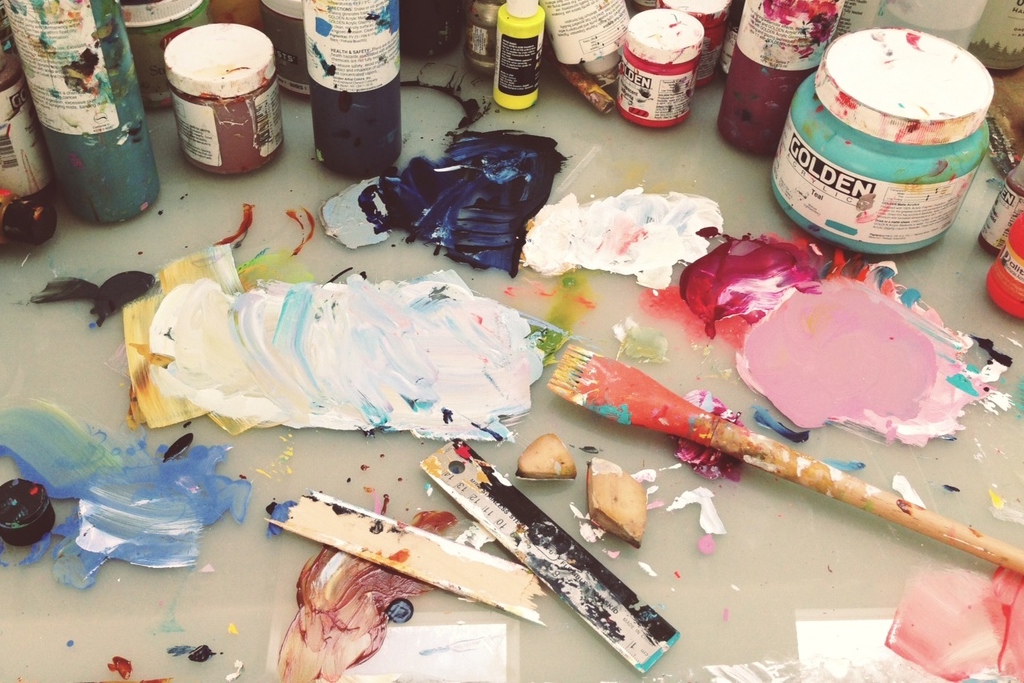 LAST NIGHT WAS THE PERFECT NIGHT TO PAINT.

My schedule was clear, the air felt delicious and it was still light out at 9pm. I turned up the music, cleaned off my palette, lit a candle, burned some sage and hung a halfway finished painting on the wall. To be honest, I wasn't feeling incredibly inspired, but typically I just need to START in order to find my rhythm.
So, I started…
I choose a few of my fave colors of the moment (grey, yellow, violet, magenta and white), and began to move the paint around. I tried out some of my signature moves, turned the canvas upside down and waited for the magic to take hold. Any minute now…
But, it didn't. After about an hour everything looked forced, murky and far from magical.

Deep Breaths.
The truth is we all get stuck.
And yes, it's uncomfortable and frustrating and often brings up our "stuff," but getting stuck is actually a CRUCIAL part of the creative process — it has to happen. Hitting creative walls means we are evolving, shifting, moving out of our comfort zones and into new territory.
This, my friends, is where we GROW.
In fact, I believe big breakthroughs are often waiting for us right on the other side of our greatest challenges. This is why it's important to acknowledge these moments — EXPECT them — and honor them as opportunities to expand, rather than opportunities to shrink.
In fact, these are the most important moments to trust, be brave, breathe and rise to the occasion. What waits on the other side will be well worth it!
So, how do you transform stuck into feelin' it?
I have a few tricks that always seem to help me get back in my groove every time, and this is exactly what happened last night.
I'm happy to share them with you…

Let go of striving.
Instead of forcing outcomes, ask yourself: "What feels exciting to me RIGHT NOW?" and "How do I want to FEEL when I'm painting?"
The experience of painting can feel so many different ways. It can be wild, free, frenzied, delicate, loose, embodied, precise, sensual, meditative, focused, alive, exhilarating and… frustrating. To name just a few.
Last night I choose: WILD + FREE with a touch of exhilarating 🙂
Keep it simple.
It can be very overwhelming to have infinite choices. What colors? What shapes? What tools? Abstract? Images? You get the idea.
Instead of working with EVERYTHING under the moon, try choosing just one or two colors and one or two ways of working with the paint. For example, last night I noticed I had a full bottle of prussian blue, a color I seldom use, and some trees sketches from the park. Perfect.
I choose prussian blue, trees, wild, free and exhilarating as my starting points.
Stay present + Follow your curiosity + Trust your inklings.
Trying to "figure out" your whole painting can easily lead to overwhelm and freezing up. Again, too many choices!
To stay present, let go of the need to know where it's all going and simply focus on what feels interesting RIGHT NOW.
Trust those tiny whispers in your head or subtle feelings in your body that suddenly beckon you to do things like: Drag your fingers across the canvas, add yellow, paint faster, turn your canvas, step back.  Finally, trust that your painting will unfold when the time is right.
Last night, my prussian blue tree sketches quickly created a framework for for me start exploring interesting new color combinations. Those color combinations led me to explore thick texture with a new spatula tool. One choice lead to the next, to the next, to the next…and suddenly a painting started to come together.
I hope these tips are helpful the next time you hit those inevitable walls of stuckness. Remember, navigating through frustration is a crucial part of the creative process. You are not alone!
You are right where you're supposed to be.
You got this. You're awesome.
With love,
xo flora