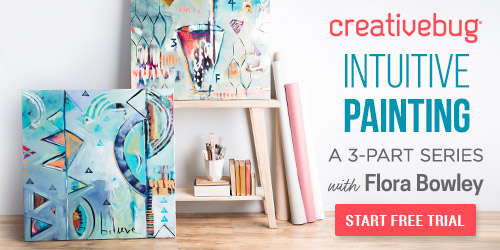 Intuitive Painting Class Now Featured on Creativebug!
Friends. I've been keeping this excitement under wraps for awhile, but today is the day I finally get to share it with you!
A few months ago, I had the pleasure of filming a three-part Intuitive Painting class in my Portland studio with the fine folks from Creativebug, and my first class is launching today!
If you're not already in the know, allow me to fill you in on the sweetest deal ever. This awesome site offers you access to hundreds of art classes for just $4.95/month.
There is also a free two-week trial period.
All the classes are taught by top notch teachers and the videos are super cute, engaging and professional — like fun little art class movies right at your fingertips.
The value here is kind of unreal actually.
My three-part series will guide you through my Brave Intuitive Painting class, with an emphasis on finding inspiration from the world around you, exploring new marks and tools, and weaving it all into your paintings.
The first class in the three-part series is available today, and the next two classes will be unveiled over the next couple of week. In the final class, you'll see me create two finished paintings from start to finish, while I share my thoughts about the process along the way.
Check out the adorable promo video below where Pearl Dog makes a couple of appearances 🙂
Hope to see you in class!