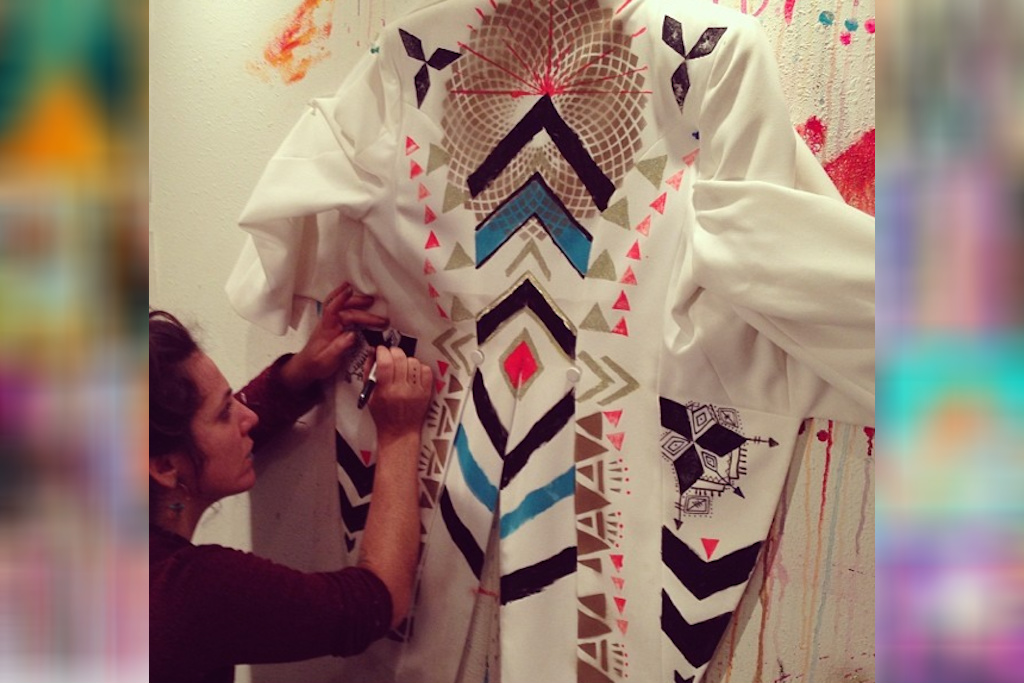 As you likely know, I'm a big fan of collaboration, so when Matt Butler, the dynamic conductor of the amazing Everyone Orchestra, asked me if I'd be interested in painting a tuxedo jacket and matching hat for him, it was a very clear YES.
Let me start by saying that I totally dig the whole concept behind the Everyone Orchestra.  Their positive high-energy shows blend a unique line-up of different (always uber-talented) musicians and there is no "Set List" … only improvisation, talent and trust.
"Tuning in to his energy, the band and audience utilize The Conductor as their pivot to the set mood of each passing jam as he communicates with the musicians using hand signs, whiteboard and assorted mime suggestions." –www.everyoneorchestra.com
Talk about collaboration, trust, and embracing the unknown.
Clearly, these are my people.
Beyond the obvious radness of this whole intuitive approach to making music,  I'm also a big fan of Matt's dedication to working with visual artists to create his outfits.  When he asked me to design a suite for him, Matt gave me no guidelines and no requirements.  He simply said, "I love your work.  Just do your thing."
This is a man who gets it…again, a clear YES

To add to the spirit of collaboration, I invited my favorite collaborator and friend, Lynzee Lynx, to help me create something truly unique. We did a little bit of planning, but mostly just allowed the design to evolve organically as we played with stencils, spray paint, acrylic paint and paint pens.  We had so much fun painting on our new "canvas" and velvety top hat, that we are now dreaming about a clothing line.  Can't you just see jean jackets and leggings with these designs?!  We can.
Once again, this whole suit making experience/experiment assured me that trusting my intuition, working with people and projects that I admire, and only saying YES only when things feels awesomely in alignment is simply the only way to roll these days.
<<<Grateful for it all>>>