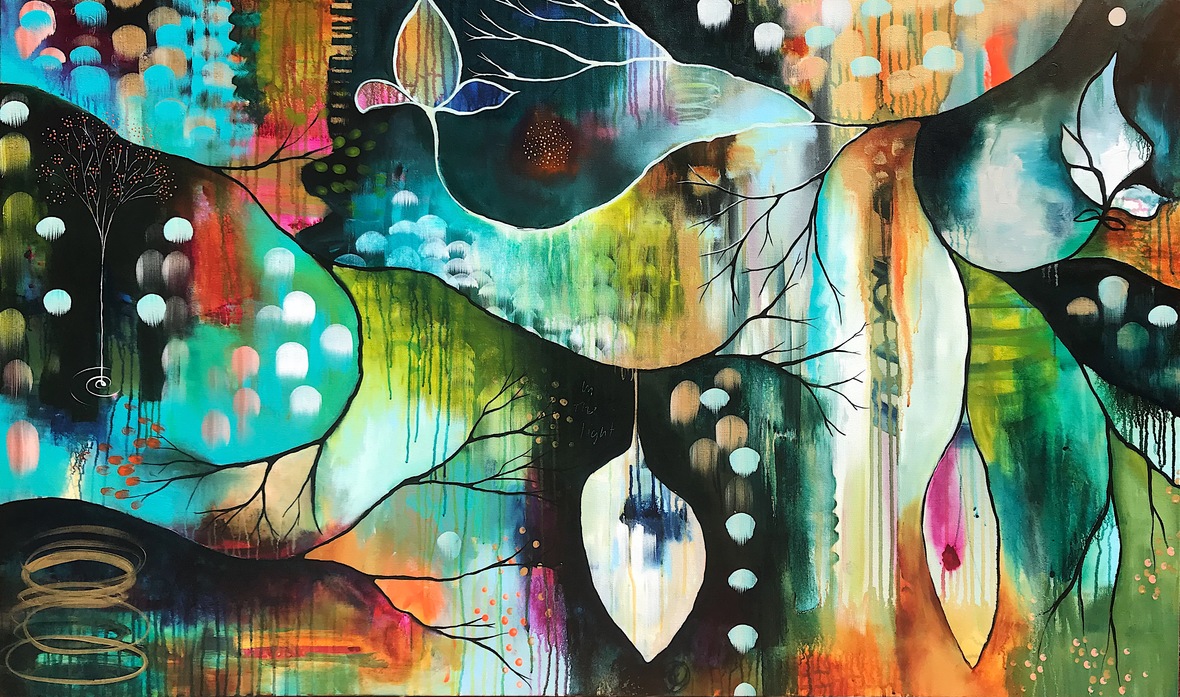 Every painting has a story to tell, and I'd love to tell you this one.
I recently received a request for a commission based on two of my (much) older paintings. The client wanted the color palette of one painting with the general composition of another painting.
As an artist and teacher who often preaches about "the importance of letting go of preconceived ideas to make room for the mystery to unfold, etc, etc," I immediately resisted this project because it seemed so contrary to how I approach my work.
But then I sat with it for a bit and started thinking of this "challenge" in a whole new way.
I often talk to my students about creating imaginary "banks of the river" in their painting process in order to flow freely within those limitations.
For example, we might choose to use bright yellow, paint quickly, work only with our hands, add circles, play with lights and darks, or simplify half our marks.
Our "banks" can truly be whatever feels most authentically interesting in the moment. This bit of structure is simply meant to streamline our choices, bring us back to the present moment, and allow us to feel more connected and engaged in the process.
And like all river banks, they keep changing over time.
So when I considered using the two older paintings as my "river banks" for the commissioned painting, it suddenly started feeling like a really interesting experiment.
And it worked!
I ended up discovering so much through the process of creating a new painting based on my older work, and the life lesons were hard to miss.
I fell back in love with colors I hadn't worked with in years (hello, green gold) and by combining these older colors with my current favorites, completely new color combinations were born — tada!
I remembered how much I love using my tiny brushes to create delicate tree branches. For years, I hadn't been "allowing" myself to paint trees like that because I'd been pushing myself in new directions (another good practice), but let's be honest, I LOVE painting those tree branches, and I realized it's OK to return to things that simply feel good when the time is right.
I realized how comforting it was to have this much structure and direction vs painting with absolutely no plan. I definitely wouldn't always choose to paint this way (I know it would start to feel too predictable), but this time around, it felt straight up soothing.
I thought about painting something beautiful for the sake of beauty's sake, and I realized the world is in desparate need of more beauty right now. Hey, I can do that!
And last but not least, I realized that even if a painting is based on an older painting, it will always be new because… I'M NEW.
Since I created those older paintings, I've lived, grown, grieved, celebrated, practiced, gained new skills and perspectives, and gone through countless changes, both on canvas and in my life.
And this, my friends, is what I hope to bring to each new painting…the most current version of myself, ready to respond fully to whatever river banks I chose to flow freely through. And I/we get to choose those banks…over and over again.
BTW, I love how this painting turned out, and I really love how much I learned along the way. I'm so glad I said YES to something I resisted so much at first…the life lessons are really endless 😉
xo flora
PS: You can find a high-quality giclee print of my original "Cocoon" painting here, and a large-scale wall mural of it here!
Don't forget to sign up for News Art Love to receive creative tips like this directly in your inbox – and 10% off all online courses!