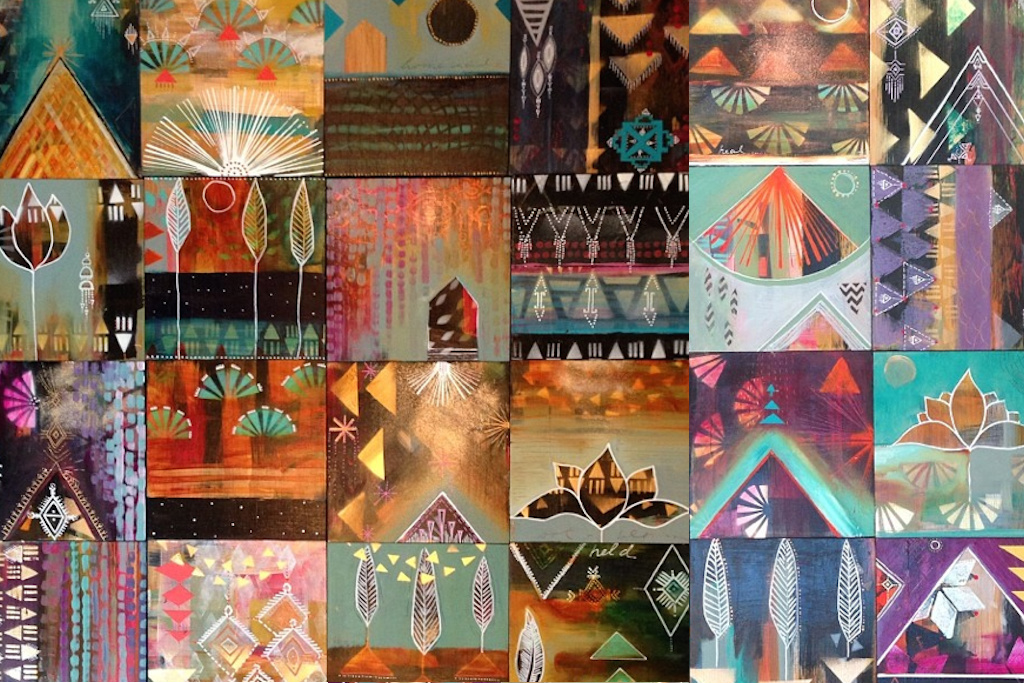 One of my favorite conversations to have with people is about what REALLY lights them up.  It is one the most direct ways to  understand a person's heart and soul-calling and often leads to the kind of juicy conversations I love the most.
My "light up" moments usually happen when I'm painting and connecting with people I am truly inspired by.  So, for the past year I've been combining these passions by exploring collaborative painting, and guess what?  I love it.
For the past couple of weeks, I've been jumping out of bed on the days I get to paint with one of my dearest friends, Lynzee Lynx…talk about feeling lit up.  We have been having SO. MUCH. FUN. co-creating a group of 60 little paintings, passing them back and forth and adding our unique touches until they are complete.
Lynx is a total pro when it comes to adding fine details with paint pens, and she also spent hours hand cutting stencils and tiny paper cutouts just for this project.  I, of course, love color combining, adding translucent layers and layering organic imagery. Together, we are stumbling upon some pretty amazing new territory and creating some kick ass lil' paintings along the way.
As you might imagine, we are super excited to share our new creations with you all soon….like tomorrow! We will be hosting an Online Sale starting tomorrow (Dec. 10th) at 10am here on my website under the "Shop" tab.  Each unique painting is 8″ x 8″ created with mixed media on thick bamboo and finished with a high-gloss resin top coat.  The paintings will come with a hole in the back and rubber bumpers on the corners, so they are ready to hang right on your wall.
All paintings will be $150 each (including shipping in the U.S.  International shipping available).  Paintings will ship out within five days of the sale (pssst….a great gift idea).  We will also be donating a percentage of every sale to support one of our favorite Portland non-profit organizations, p:ear, a creative mentoring program for homeless youth.  P:ear does amazing work and we are thrilled to support them with the work we do.
We will also be offering prints of a handful of our new minis.
We have a hunch the Minis will sell out pretty fast, so if you are keen on owning a lil' orginal art, please tune in as close to 10am as possible.  Thanks friends…we look forward to seeing you tomorrow!
Leaving you with a sweet lil' video created by my friend, Zipporah Lomax.  A sneak peek inside my studio and our Mini making process…enjoy! xo flora