I love this time of year for all the obvious reasons…the coziness, the boots and scarves, the deliciousness of gathering with friends around a fire, the steamy drinks.  You know, all the usual suspects.  However, the real magic of this time of year comes for me in the form of gratitude and time for deep soul reflection (i.e. getting my priorities straight). I've been doing quite a bit of both lately.
During one recent conversations about what really matters in life, I found myself talking about letter writing.  I was wistfully lamenting the lost art of the handwritten letter, or any letter that ends up in an actual mailbox for that matter.  I used to love sitting down to write heartfelt letters and like everyone, I love receiving letters.  However, I honestly can't remember the last time I wrote a real letter…until this morning.  Enter in my latest brain child:
  Heart to Hand: a Love Letter Project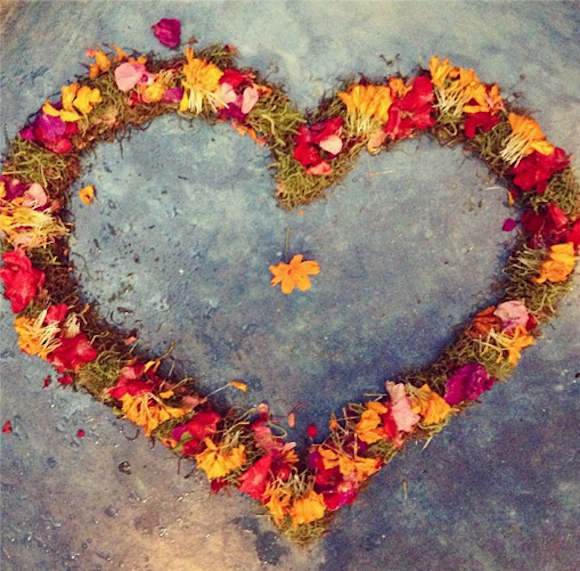 I'll admit, I have a thing for projects that are contained within time frames.  Likely due to my wildly unpredictable schedule and lifestyle, I enjoy building myself walls to operate inside of…for awhile.  I think they make setting myself free again that much sweeter.
For example, when I first moved to Portland, I created, "The Thirty Shows."  I asked 30 artists to create 30 paintings in 30 days. We sold each painting for 30 bucks to raise money for some groovy causes, and the whole thing was a huge success.  Last April, I embarked on my "Thirty Day Blog Love Affair" writing a blog everyday for a month in order to kick start my relationship to blogging again.  Also…a winner.
This time around, it's all about letter writing which also happens to be all about slowing down, mindfulness and gratitude.  So, for each day of December, I will write a hand-written letter to someone I love.  I have no list of people in mind to receive these letters.  Instead, I plan to sit down everyday, meditate for a few minutes and allow someone I love to float into my heart and mind.  Today's first letter was written to one of my dearest friends and teachers who was recently diagnosed with breast cancer.  Spending an hour writing a letter to express my gratitude and love for this friend was so healing.  I'm already looking forward to tomorrow's letter!
If you are feeling inspired, I would love to have you join me in this project.  Whether it's a month of letters or just a few, let's all take some time to sit down, slow down and express our love and gratitude to the people who mean the most to us.  I'm pretty sure this is a REALLY good way to spend some time.  If you join in the project and do any posting about it, let's use the hashtag: #hearttohand.  It will be fun to see everyone's pics in one place.
And, if writing on something really pretty will help the words to flow, I just so happen to have some lovely new holiday cards created by Papaya Art for all your letter writing needs.  All these cards and, well, EVERYTHING in my online store is 20% off until tomorrow at midnight, PST.  Just use the coupon code: GRATEFUL4U to receive your discount. Cheers!
Happy writing.  Happy loving.  Happy slowing down!
xo flora