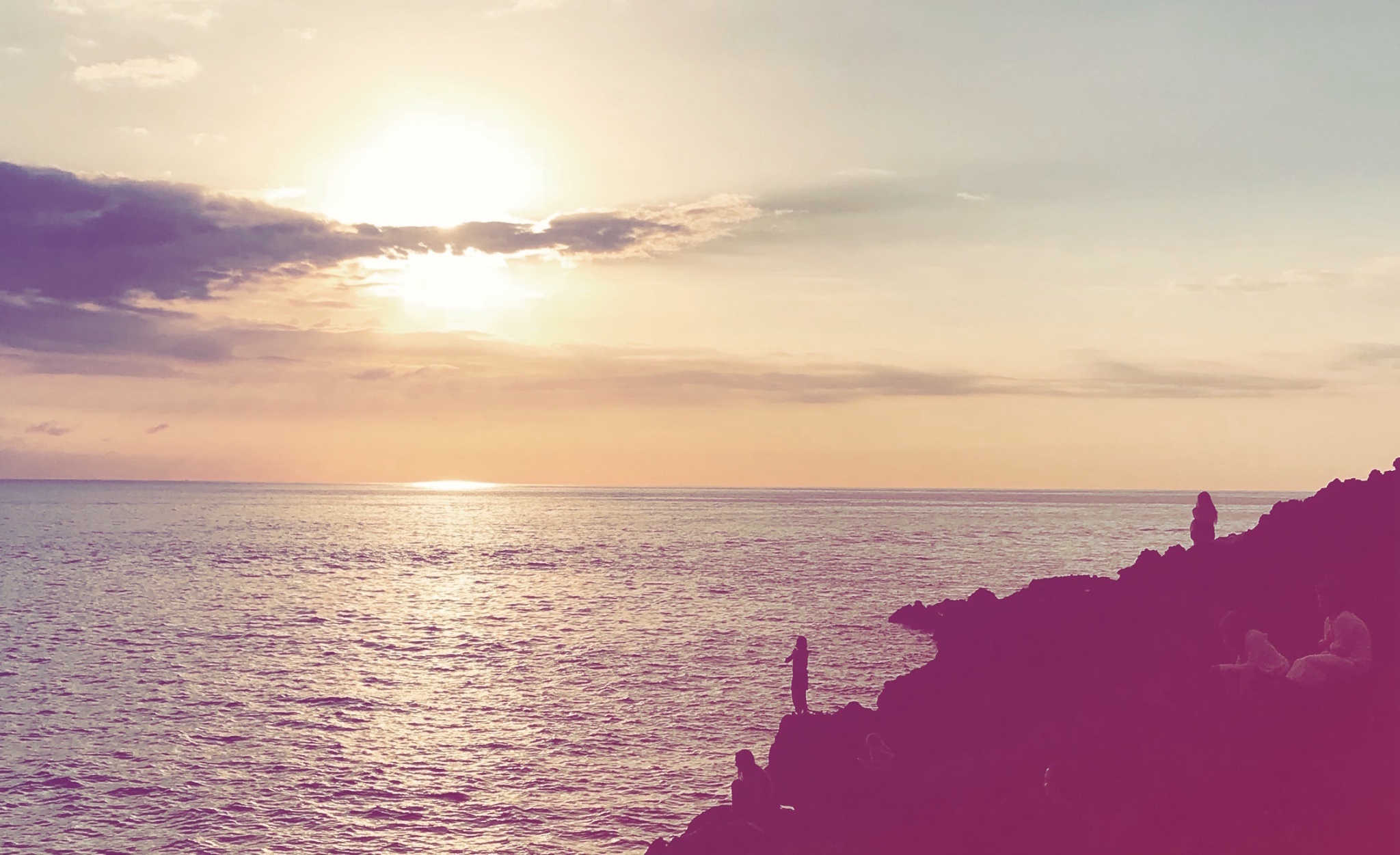 Aloha! I had the great fortune of spending the past two weeks filling my cup in beautiful Hawaii, and I'm happy to share some of the blessings I received along the way.
I spent the first week with my sweetie, traveling around Maui, sleeping in the back of our rented van, and allowing each day to unfold moment-to-moment. Talk about feeling FREE and ALIVE. It was an adventure we'll never forget.
The second week was spent on the Big Island, immersed in a soulful retreat called Ancient Voices, led by Ayla Nereo and Aya Papaya. (If you've taken my Creative Revolution E-Course, you'll remember Ayla's music from many of the videos).
The retreat offered a powerful and stirring blend of movement, ceremony, breathwork, swimming with dolphins and whales, and last but not least, voicework.
It was that last part that forced me to step way outside my comfort zone. As a super shy kid, singing and using my voice have never been easy for me. I'm pretty sure this is why I threw myself into visual art from an early age — no talking needed 😉
However, the seeker in me has always been energized by exploring my own risky edges, so a week-long singing retreat seemed like the perfect medicine to sooth my shaky voice.
Thankfully, it didn't take long to realize that Ayla was teaching us to use our voices in the very same way I teach others to intuitively paint. Two different vehicles fueled by the same loving intentions.
This was not about singing beautiful songs, doing it "right," or having a plan. Instead, it was an opportunity to let go and courageously step towards something that was calling our souls to be heard.
It was about honoring our voices as a primal part of our humanity — a part that actually needs to be expressed and released. It was about diving into the mystery and trusting that we would survive…and perhaps even thrive in that unknown place.
While I definitely get this way of creating, it wasn't until Ayla shared this simple invitation that everything shifted for me. She said:
LET IT BE A PRAYER.
Ahhhh yes, this isn't about me! How easy it is to forget when I'm feeling afraid and self-conscious. But the moment I remembered that my sounds and songs were really just spirit flowing through me as a way of honoring life, was the same moment my fear dissolved in a breath.
What a sweet relief.
Today, I found myself singing in the shower and humming along as I walked through my neighborhood. My voice felt freed up in a new way, and it felt sooooo good.
I crave to live in a world where song, dance, art, and voice are shared freely as an expression of all that is alive and moving in our souls. This kind of honoring feels more important than ever right now.
I hope you'll join me there.
xo flora