WINDS OF CHANGE 
WITH FLORA BOWLEY AND ORLY AVINERI
A special five-day creative immersion in Portland, Oregon.
I'm so honored and excited to teach alongside my soul sister and artist extraordinaire, Orly Avineri, once again. We've found that the alchemy of our unique perspectives and practices creates something quite special and powerful, and we're so happy to share it with you.
Over the course of five days, Orly and I will share a diverse array of intuitive, mixed-media art processes as we consider themes of contentment, change, personal freedom, and connection. Drawing on the wisdom centers of our body, mind, and spirit, we will explore ways to express our ever-changing moods and experiences, while examining notions of truth and fluidity.
Be ready to explore new materials, let go of pre-conceived ideas of "beauty," move your body, and open yourself up to a whole new way of soulful creating.
This retreat will be held in my beautiful, brand new, backyard studio, and I'd love to have you join us. All experience levels are welcome. All you need is an open heart and mind.
"To call this experience a "workshop" is to diminish the depth and breadth of these five very rich days. Orly and Flora have created a nurturing, challenging, and invigorating "retreat" in every best sense of the word."
– Carolyn
"If you want a transformative experience, take Flora and Orly's class. It will change you – It will impact your life in a perfect way. Your creative senses – all of them – will be engaged."
– Rachel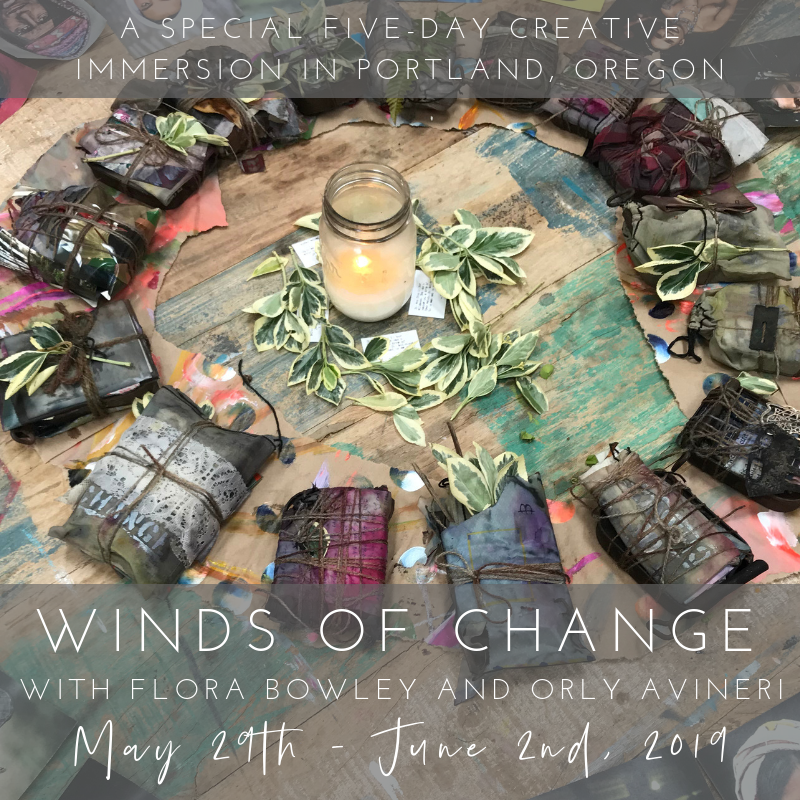 "An exhilarating, life changing experience for everyone, regardless of creative experience. These 5 days will be with me forever."
– Nikki
NOURISHMENT
We will provide a healthy and delicious catered Welcome Lunch on Wednesday, a Pizza Party on Friday evening, a Farewell Lunch on Sunday, and an abundance of healthy, gourmet, seasonal platters and handcrafted tea and fair trade coffee available throughout the weekend. All other meals will be on your own.
COMMUNITY
Each participant will be invited to a private Facebook group to foster connections among the group.
ACCOMMODATIONS
Accommodations and transportation are not included in the price of the retreat. However, local hotel and AirBnB options will be provided upon reservation. Sharing rooms and rides will be facilitated through the Facebook group.
PREREQUISITES + CANCELLATION POLICY + CONFIRMATION

No experience is required to attend. There are no refunds for this event, unless we are able to find another participant to take your place, in which case you will be refunded the amount you paid, minus a $100 cancellation fee. Once you are enrolled in the retreat, you will receive an email within 48 hours with details regarding the schedule, supplies, accommodation recommendations and location. Please feel free to email any questions to [email protected].
Materials
Some materials will be provided. Please bring the following:
One large size cereal/food box.
A used children's picture book (from a library store, a second hand book store, etc.)
Acrylic paints (favorite colors)
Paint brushes, very wide and flat to very thin
Scissors
Matte or Soft Gel
Fine point black permanent pen
White Gel Pen
LOTS of personal images: copies of photos, actual photographs, scraps of papers you love, images from old books, old letters, vintage ephemera, etc.
Please wear loose, comfortable clothing. We'll be moving our bodies and getting messy!
Retreat Includes:
Five days of facilitated retreat time, including plenty of one-on-one time with Flora and Orly

One-on-one support from the Bloom True team throughout the retreat

Live musical serenade

Plenty of large watercolor paper + cardstock

Water jar, rags, and spray bottles

Love-filled goody bags from Flora and Orly

Small, original, collaborative painting by Flora and Orly

Gourmet catered Welcome Lunch on Wednesday

Gourmet catered Farewell Lunch on Sunday

Pizza Party and extended studio time on Friday evening

Healthy, gourmet, seasonal platters, organic tea and coffee, and filtered water

Discounts on products and future courses

Inspiration and connections to last a lifetime

On-site massage therapy sessions available at an additional cost
Workshop Details:
YOUR INVESTMENT

$1,875 USD
LOCATION
Flora Bowley's backyard Portland, OR studio. Exact address will be sent upon registration.
SCHEDULE
Wednesday – Saturday: 10 – 5
Sunday: 10 – 3
Additional Open Studio Time on Friday Evening
[/vc_column_inner]
[/vc_row_inner]
THERE IS NOTHING QUITE LIKE CREATING TOGETHER
Retreats are offered several times a year, and tend to fill up quickly. I always announce retreats as soon as they are open on my email list News Art Love. If you'd like to be the first to know about upcoming retreats, please join below!
"The Winds of Change workshop was far more than a painting/art journaling class; more of a spiritual venture into myself. A lovely time and space to explore the ways change in my life makes me more alive and mindful. I can't help but be more creative now! This is the workshop with real follow-through."
– Jennifer