WELCOME. I'M SO GLAD YOU'RE HERE.
My name is Flora, and I'm a painter, pioneer, permission-giver, and author of four books: The Art of Aliveness, Brave Intuitive Painting, Creative Revolution, and Fresh Paint. 
I believe creativity has the power to awaken, empower, heal, and transform, and I know deep down in my bones that creative expression is a crucial part of holistic well-being.
You have everything you need right now to reignite your creative fire, and it is my great honor to serve as an encouraging guide back to this place of courage, freedom, intuition, and aliveness.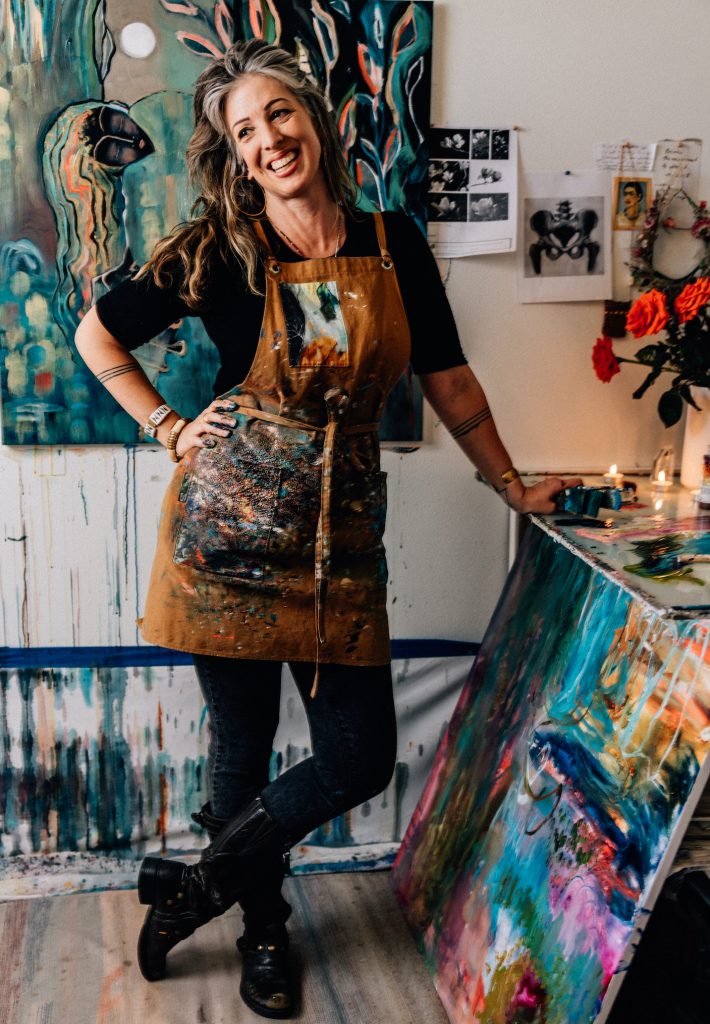 Flora Bowley (pronounced bowl-lee) is an artist, author, and gentle guide whose creative process and soulful approach to living have touched thousands of lives.
Known worldwide for her unique ability to instill creative courage, self-acceptance, and wild freedom, Flora's signature approach to art-making is rooted in the belief that creativity belongs to all people and that creative practices are potent fuel for a more alive and awakened way of living.
Blending over twenty-five years of professional painting experience with her background as a yoga instructor, healer, and lifelong truth seeker, Flora's popular in-person retreats and online courses have empowered a global network of brave painters while creating a new holistic movement in the intuitive art world.
Currently, Flora is pouring her love for community and creativity into building a holistic retreat center an hour outside of Portland, Oregon.
My online courses offer a well-lit path back to your creative spirit through expert guidance, inspiring content, loving encouragement, and community support, all from the comfort of your own home.
Sign up for News Art Love to receive 10% off all of my immersive online courses (REUNITE, Fresh Paint, The Bloom True E-Course, Creative Revolution E-Course, or the Complete Set of The Painting Sessions, Studio Diaries, Real Time Live, or Together Apart).
ONCE-A-YEAR GRATITUDE SALE IS ON!
NOVEMBER 22nd – 27th
Enjoy 25% off Online Courses with coupon code: GRATITUDE2023 (apply at checkout). 
Does experiencing a soulful painting retreat from the comfort of your own home sound dreamy? REUNITE is a virtual painting retreat featuring sixty professionally shot videos filmed at an in-person Bloom True retreat, seven live community Zoom calls, a 24-hour Open Studio Zoom Room, virtual one-on-one guidance from Flora, and a month of creative wellness prompts. The live version of REUNITE is happened August 4th – 8th, 2021. However, all the course content will be available to view until the end of 2021, so you can choose to work through it live, on your own time, or a combination that works for you.
Are you ready to develop a signature painting style that is all your own? Fresh Paint invites you to create 100 small paintings on watercolor paper as a way to develop and strengthen your unique artistic voice and style. Co-taught with Lynzee Lynx, we use mixed-media art exercises, movement, meditations, and writing prompts to explore personal experience, individual preference, ancestry, intuition, and body wisdom. Fresh Paint is perfect for those with some intuitive painting experience seeking to go deeper and discover a more personal style. Includes lifetime access.
Are you excited to paint colorful, large-scale, acrylic paintings fueled by intuition, spontaneity, and the understanding that you can't make a mistake? Bloom True is my original five-week foundational painting course featuring abundant painting videos, creative exercises, interviews with other artists, resource links, and Q + A audio tracks. Moving at your own pace, I will gently guide you through my entire Brave Intuitive Painting process, from blank canvas to finished painting. This course is a wonderful place to begin your large-scale intuitive painting adventure or to discover more freedom in your work. Includes lifetime access.
Are you inspired to weave more creativity into every aspect of your life? Creative Revolution features empowering mixed-media creative exercises that you can do right at your kitchen table with simple supplies. This soulful course also includes movement sequences, morning and evening practices, and the original The Art of Aliveness series. Creative Revolution is less about creating big paintings and more about finding freedom, courage, and mindfulness in your creative process and in your life off the canvas. Filmed with seven "students" moving through all the exercises. This one is great to do with kiddos. Includes lifetime access.
Do you love to learn by watching play-by-play painting demonstrations? In each Painting Session, you'll have a front-row seat to my entire Brave Intuitive Painting process, from blank canvas to finished painting. Shot with multiple camera angles and featuring an in-depth voice-over where I share intimate tips and insights about my process as it's unfolding, this offering came from a resounding call for, "More painting videos, please!" If you're curious about this way of painting or if you're looking for fresh inspiration, I highly recommend checking out any of the a la carte Painting Sessions for just $36 each. If you decide to purchase The Complete Set of Painting Sessions, we're happy to refund your original $36. All Painting Sessions include lifetime access.
Is there an aspect of intuitive painting that you're curious to explore more deeply? Each Studio Diary explores one of these twelve themes: Making It Personal, Creative Business With Heart, The Power of Play!, How to Finish a Painting, Making Peace With Your Inner Critic, The Art of Simplicity, Exploring Dynamic Contrast, Collaboration, Finding Your Style, Staying Inspired, Nourishing, and Letting Go. Each theme is explored through a series of creative exercises, interviews with other artists, resource links, Q + A audio tracks, music playlists, and more. I recommend starting with your favorite a la carte Studio Diary theme. If you decide to purchase The Complete Set of Studio Diaries, we're happy to refund your original $36. All Studio Diaries include lifetime access.
Would you enjoy painting alongside me, while diving into some unscripted, down-to-earth conversations about life and art in my studio? Each Real Time Live episode offers two hours of candid, action-packed, live-streamed painting time in my Portland studio, along with a treasure box of supportive creative content to accompany each session. These gatherings were filmed live throughout 2019, and the recordings are now available to watch anytime. I recommend checking out one of the a la carte Real Time Live session for just $36 to get the feel for it. If you decide to purchase The Complete Set of Real Time Live, we're happy to refund your original $36. All Real Time Live sessions include lifetime access.
Need a little company and encouragement in your studio? Together Apart was created in March of 2020 in response to the global pandemic and the need to stay socially distanced while also staying connected and creative. In each two-hour virtual gathering, you'll find a spontaneous mix of painting, movement, readings, Q + A, and meditation. I offer a bit of creative guidance along the way, but primarily these sessions are designed to simply create a space for creative togetherness. I recommend checking out of the a la carte Together Apart sessions to get the feel for it. If you decide to purchase The Complete Set of  Together Apart, we're happy to refund your original $36. All Together Apart sessions include lifetime access.
Are you seeking a unique and inspiring painting experience that can be done in just a few hours? These playful half-day workshops feature a unique array of mindful movement, meditation, writing exercises, drawing prompts, and, of course, lots of intuitive painting techniques. Root and Branch and Brave Intuitive Botanicals offer a deep-dive into painting inspired by nature. The classes were originally live-streamed from my studio and the replays are now available with lifetime access.
Want to try out a few different courses before committing to an immersive course? This collection of A La Carte Classes features individual offerings at an affordable price point, and include single episodes of The Painting Sessions, Studio Diaries, Real Time Live, and Together Apart. These stand-alone classes contain a wealth of inspiration, are available immediately, and come with lifetime access. They're a great way to try out the courses before committing to a complete set (if you love them and want to upgrade to a complete set, we are happy to refund you for any individual courses purchased!)
WATCH ME CREATE A PAINTING FROM START TO FINISH