WELCOME TO YOUR CREATIVE KICKSTART
An essential guide to bring more courage and freedom to your canvas (+ life! )
Thank you so much for choosing to connect with me here. Your creative spirit thanks you too!
Below you'll find a sampling of videos to explore. I hope this little glimpse inside my creative process inspires more courage, freedom, and trust as you reunite or dive deeper into your own artistic adventures.
I believe you were born with infinite wells of creative potential just waiting to be tapped and remembered, and my friend, it is TIME to remember. Oh yes, it is!
I'm so glad you're here. Let's dive in.
xo Flora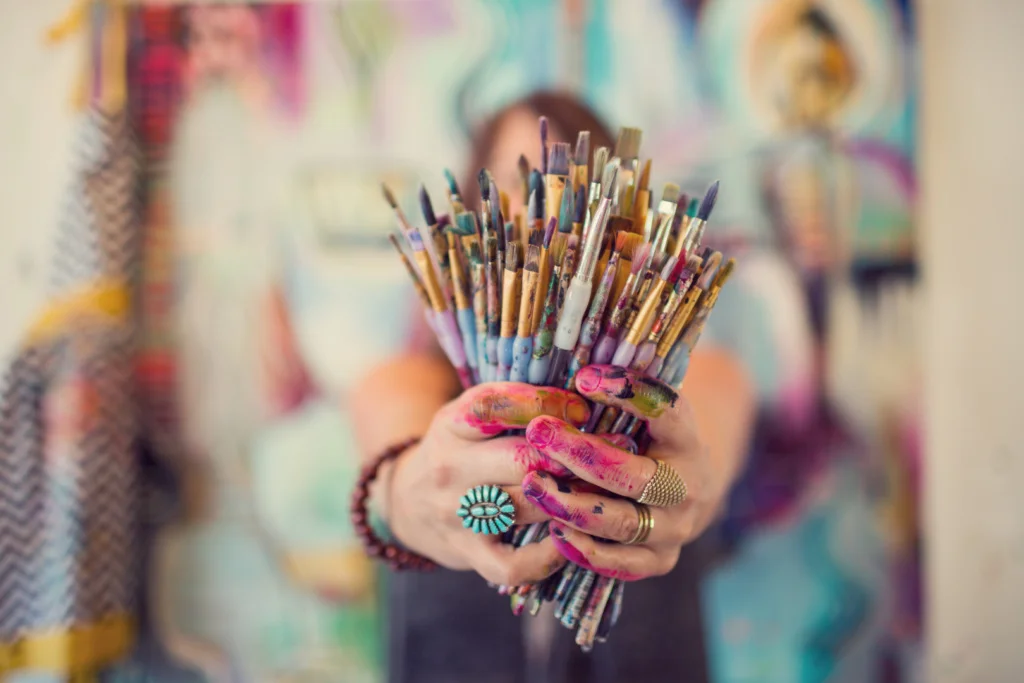 ARE YOU READY FOR MORE JOY IN YOUR LIFE?
If you could use a creative pick-me up, I invite you to explore this 90-minute recording of a live workshop, all about cultivating aliveness. This class was originally filmed with the release of my book, The Art of Aliveness, and is all about creatively returning to what matters most through movement, simple art-making practices, writing, connecting, and using our imagination. I've had a lot of fun dreaming this up for you, and hope you enjoy.
WATCH A PAINTING COME TO LIFE
In this video, you'll see me paint the very first layer of a new painting as I offer voice-over tips and tricks along the way.
You'll learn about how I set up my palette, my favorite way to choose colors, why I like to paint with unusual tools, the benefit of turning my canvas upside down, and how to make your paintings pop.
There's something quite magical about watching a painting come to life, and if you'd like to see the entire start-to-finish process, you'll find that in every episode of The Painting Sessions.
CREATE YOUR OWN VISUAL LANGUAGE
One of the most satisfying things about being a creative person is finding your own unique style.
In this video, I invite you to explore this potent topic by using the richness of your life and your unique experiences to fan the flames of your creative expression. I also share a bit about the personal significance of my own special objects and how I could weave them into my paintings.
There are so many ways to explore each aspect of my Brave Intuitive Painting process, and if you're looking to dive a little deeper into topics such as Finding Your Style, The Art of Simplicity, Making Peace with Your Inner Critic, How to Finish a Painting, Creative Business with Heart, and more, you'll find a world of inspiration in my Studio Diaries program.
Visual Riffing is a wonderful way to let your creativity flow in new directions with very little pressure.
This is not at all about producing a masterpiece to hang on your wall. Instead, it's about loosening up within a confined "container" as a way to discover new shapes, get unblocked, and generally get your creative juices flowing.
Try warming up with a little Visual Riffing before your next painting session, or riff your way through your next bus or plane ride. The possibilities are truly endless.
If you're looking for more ways to incorporate creativity into your everyday life, The Creative Revolution E-Course is packed with prompts and exercises you can do right at your kitchen table with simple supplies. Perfect for kids!
I'm a big fan of incorporating movement into my creative practice to loosen up and drop into my intuition (and out of my head).
In this video, I guide you and a group of Creative Revolutionaries to find more fluidity in our bodies by moving in new ways to the beat of a drum. I hope you'll get up and join us!
You'll find a different Movement Sequence and downloadable audio track in every week of my Creative Revolution E-Course.
I'm happy to share one of my all-time favorite painting tricks with you here.
In this video, you'll hear why "working with what's working" is a powerful way to stay in the flow, keep your momentum, and avoid getting stuck. You'll also see me use this approach in one of my own paintings.
This is one of over thirty painting videos you'll find in my Bloom True E-Course, my foundational five-week painting adventure that will likely change the way you paint forever. If you want to discover my entire painting process from start-to-finish, this is it!
Thanks so much for joining me here!
If you want to hang out some more, you can find me on Instagram, Facebook, and Pinterest, or join me in one of my Online Courses. I would love to see you there and keep this creative party going!