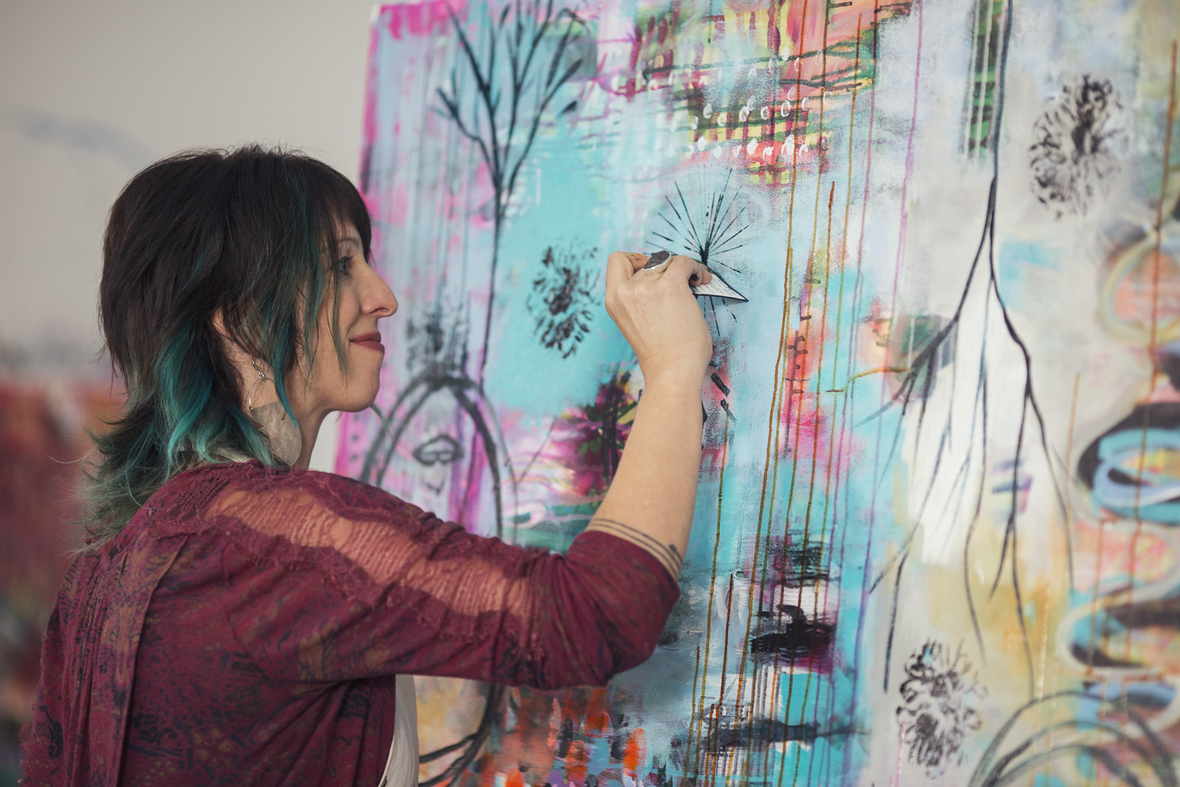 I hope you are easing your way into 2023 in a way that feels nourishing and aligned with your heart's desires. EASE is my word for this year, and I find myself breathing a little more deeply just orienting toward this energy.
Today's invitation is for those of you who are ready to REUNITE with unbridled freedom, creative community, and the whispers to play with paint in 2023!
I offer my five-day virtual REUNITE retreat once a year, and this is where I share every aspect of my intuitive painting process.
With just the right mix of gentle instruction, live daily calls, recorded videos, one-on-one guidance, a global creative community, and the freedom to move at your own pace, you'll experience my entire Brave Intuitive Painting process just as you would at an in-person retreat. Except here, you can experience it all from the comfort of your own home.
REUNITE is available as a self-paced course, or you can join a global community from February 15th – 19th for live daily calls and the experience of moving through the course with a group. This kind of accountability can be so helpful! Live call replays and all the course content will be available through December 31st, 2023, so there's plenty of time to linger and circle back.
For years, I dreamt of finding a way to share the magic and impact of my live painting retreats with more people in more places, and, friends, this is it.
"Life-changing – more than what you would ever expect from a painting course, let alone an online painting course." – Leilani P.
How Does REUNITE Work?
REUNITE is designed to work for YOU.
If moving through a virtual retreat in real-time with a live global community feels supportive and helps you with accountability, clear your schedule from February 15th – 19th. You've got a (virtual) painting retreat to attend!
If you're not free during that time or prefer to work at your own pace, you can dip in and out of the lessons any time that works for you. You'll have access to all the material, including the recordings of the live calls until December 31st, 2023.
Who is REUNITE For?
REUNITE is for anyone wanting access to more freedom, authenticity, and courage in their intuitive painting practice. Seasoned painters and first-time painters are wholeheartedly encouraged to join.
When Is REUNITE Happening? When Do I Get Access?
You'll receive immediate access to a Month of Creative Wellness prompts when you join. These prompts include things like drawing exercises, creative writing invitations, movement practices, recipes, music playlists, meditations, and more. The prompts are intended to get you warmed up for the virtual painting retreat, but you can do them anytime throughout the year.
On February 13th, you'll receive access to all the virtual retreat videos, so you can get acquainted with the layout of the course. The "live" virtual retreat happens February 15th – 19th.
What Do You Mean By "Live" Virtual Retreat?
In addition to the sixty pre-recorded REUNITE videos that were filmed at a Bloom True retreat, live daily community Zooom calls will happen February 15th – 19th. There will also be bonus Zoom calls where I'll work with REUNITERS one-on-one. If you want a "live" retreat experience, this is the time to jump in, friends!
Remember, if you can't make it to the live sessions, you will have access to all the replays, along with the recorded videos until December 31st, 2023.
"The most incredible painting experience you'll ever find online." -Frances Fox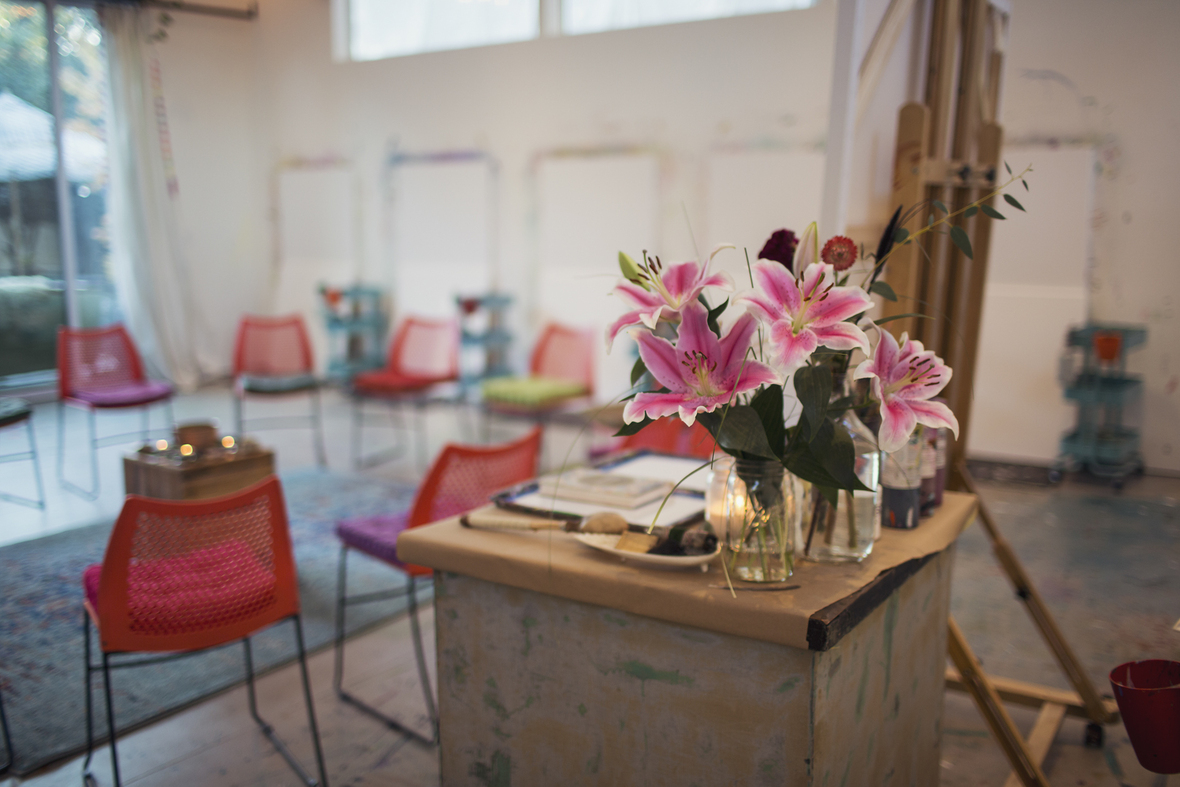 WHAT'S INCLUDED IN REUNITE?
▪ 60 professionally filmed and edited pre-recorded retreat videos
▪ 8 live Zoom calls with Flora and the REUNITE community
▪ Step-by-step guidance through the entire Brave Intuitive Painting process
▪ Bonus one-on-one virtual help (if needed) with Flora
▪ Downloadable PDF transcripts of all pre-recorded videos
▪ A gentle yoga class
▪ Six music playlists
▪ 30 days of creative wellness prompts
▪ Guidance to transform any space in your home into a painting studio
▪ A complete guide to all of Flora's favorite paints, colors, and supplies
▪ An invitation to be part of a private community of kindred creatives
▪ A place to ask Flora specific questions
▪ Access to all the course content until December 31st, 2023
▪ A whole new way of painting that just might change your life!
Ready to REUNITE?
The first time I offered REUNITE, we had people from 25 different countries join. I can honestly say it was one of the most connected and inspiring experiences I've ever had through an online format and that's exactly what we heard back from the REUNITE community.
To make this experience more accessible, I'm offering a sliding-scale registration model.
Find out all the juicy details here. And don't hesitate to reach out if you have any questions at all.
With love + support,
xo flora
Every month, I make a new music playlist for my FREE FLO community. I've especially been enjoying the December playlist, and I hope you do too! (You'll need a free Spotify account to listen).
Don't forget to sign up for News Art Love to be the first to hear about opportunities, my favorite creative tips, free gifts, and 10% off all online courses!