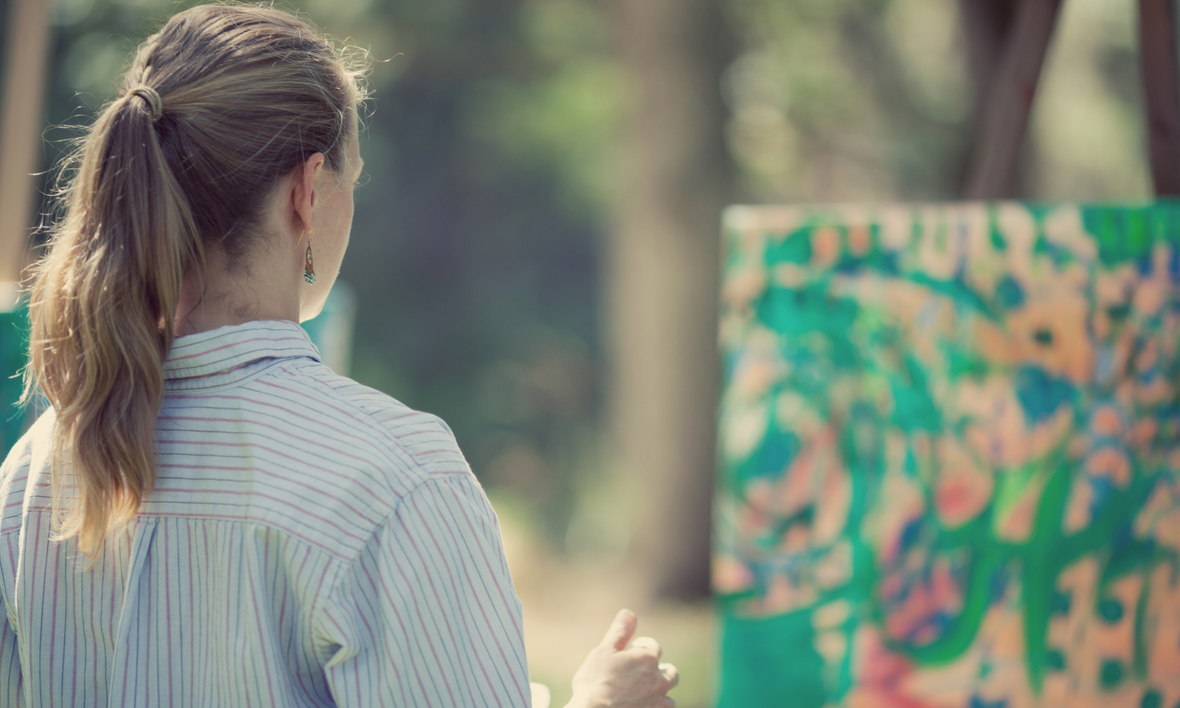 You start out feeling wild and free, making marks without a care in the world, and happily slinging paint any way your heart desires. The music is pumping, and you're feeling gooood. This is fun and easy!
Then suddenly, your logical mind creeps in.
You decide it must be time to "get serious" and make some "sense" out of all this chaos. You better choose some images, develop a composition, quiet down the marks, or at the very least, pick which way is up!
And with the blink of an eye, the painting process stops feeling free and starts feeling…. hard.
If you've experienced this, you're not alone. It's human nature to want to have a plan. We love knowing where we are going, so we can take the steps to get THERE.
But Brave Intuitive Painting doesn't work that way.
In this process, you are asked to let go of planning in order to stay fully present to what is unfolding in each, ever-changing layer of the painting.
So how exactly do you do THAT?
There are many ways to move through these sticky moments to get back to your flow. Here are some things to consider:
When moments of over-thinking surface, step back and take a deep breath. Relax any tension you feel in your body. Shake it out. Soften your need to know anything at all about this painting.
Next, ask yourself if anything is calling you into action. Remember, stay local. Don't worry about the entirety of the canvas — that's too much space to consider. All you need to know is your one next move…even if it's tiny. Whatever you do next will inform what comes after that.
If nothing is obviously calling to you, try turning your canvas in all four directions to see if a new orientation sparks any ideas. If nothing comes, you are free to decide — woohoo! Again, all you're looking for is the next baby step.
To find that next baby step, ask yourself these questions:
Am I craving any colors next to the ones I see here already

Is there an image or shape I'm excited to try on? Maybe something from your

Inspiration Gathering

? (Hint: It can always change later on).

Is there a small area that feels like it's "working?" If so, how can I work with what is working? (Hint: Add more of it. Highlight by quieting around it. Add details to it.)

What simply sounds FUN to do next?

What feels a little scary but exhilarating?

What feels even the tiniest bit interesting? Because a tiny bit of interest is enough!

What new mark I can make from my tools?

What new color can I mix up?

What can I do to create contrast? (Hint: Add lights and darks. Use complimentary colors. Create big and small shapes. Incorporate both wild and steady marks. Explore activated and quiet areas.)

What can I do to be more in my body right now? (Hint: Dance. Stretch. Take a little walk. Move in any way that feels GOOD to you).

What music will inspire me right now? Fire it up!
Regardless of what you decide to do next, remember you only need to know the one next thing. If you start to get ahead of yourself, you'll be right back in your head…and likely overwhelmed.
Remember, baby steps. Deep breaths. Everything is changeable. It's only paint.
You got this!
xo flora
"If you can see your path laid out in front of your step by step, you know it's not your path. Your own path you make with every step you take. That's why it's your path."
– Joseph Campbell