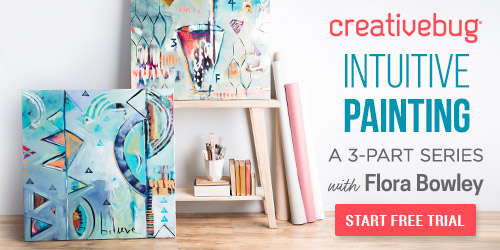 Celebrating one year of Intuitive Painting on Creativebug!
It's been so fun to share my approach to painting with the Creativebug community over the past year and to see so many people from around the world discovering their ability to paint intuitively.
If you're not already familiar with Creativebug, this amazing website offers access to hundreds of wonderful art classes, including my three-part course. And here's some good news, you can check it all out using their free two-week trial period!
All the classes are taught by top notch teachers, and the videos are super cute, engaging and professional — like fun little art class movies, right at your fingertips.
My three-part series guides you through my Brave Intuitive Painting process, with an emphasis on finding inspiration from the world around you, exploring new marks and tools, and weaving it all into your paintings.
Check out the adorable promo video where Pearl Dog makes a couple of special guest appearances.
I hope to see you in class!