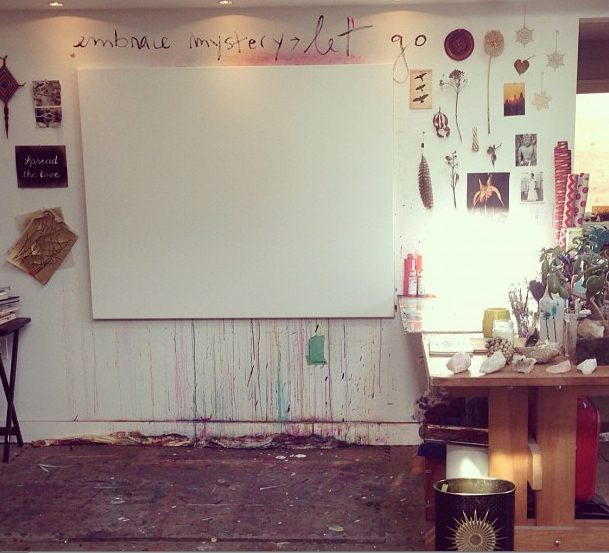 There's a question that seems to come up in every single interview I do.  It's the "Where do you find inspiration?" question.  It's easy to answer this question with the obvious:  nature, color, form, movement, trips to the woods, looking at other people's art, etc.  But, when I really get to the heart of what drives my creativity, it's actually so much more about the act of creating itself.  It's about stepping in front of a big white canvas and trusting myself enough to make the first move.
Personally, I love the first move.  There is something so powerful in making those first few brush marks across a white a canvas.  It is a simple act, really, but there is an immense amount of bravery and trust involved in this moment of turning possibility into action.  It might appear as an orange swash of color across a field of white, but really it's a declaration of trust, forward movement and radical personal expression.  It's about stepping across a threshold into something unknown and trusting that what will happen there will be OK—or maybe even great.
It is possibility in action.
Obviously, there is ton of trust involved in continuing to make marks after those initial declarations have been made, and maybe that's where the real work happens—how to continue to move forward even when you feel stuck, uninspired, totally overwhelmed or just not into it?  For me, it comes down to risk taking.  If I'm operating from a "safe predictable and controlled place," I am rarely inspired.  It's more like I'm going through the motions and there is something very uninspiring about that for me.  It's often when I step outside of this comfort zone that I feel that divine spark of inspiration.  It's like standing on the edge of a cliff or running in the rain or arriving in a brand new city.  There is an aliveness present and with this aliveness comes inspiration.
This is not to say "playing it safe" is not a perfectly acceptable way to operate…some of the time.  Amazing things can happen when we are in control, have a plan and know who is driving the bus (so to speak).  There is a time and place for this kind of knowing, for sure!  What I believe is important is simply having an awareness around our patterns and what is potentially holding us back.  Noticing when it's time to mix it up, step into the unknown and do something seriously BRAVE is a really powerful awareness to have.
I'll sign off here with a little video I created with my friend, Zipporah Lomax.  Our intention was to demonstrate possibility in action and to inspire others to step into this powerful place of mystery themselves.  I hope it does just that!
xo flora
"Only those who will risk going too far can possibly find out how far one can go.  -T.S. Eliot